RailEye® Front Collision Assistant
Intelligent camera sensor for the detection of hazards
Warning for risk of collision
RailEye® Front Collision Assistant
The RailEye® Front Collision Assistant by EYYES detects critical situations and actively warns drivers by means of visual & acoustic signals. The system is suitable for all rail vehicles and reports dangers up to 60 km/h. Thanks to artificial intelligence and the use of high-resolution camera sensors, the system only warns of real dangers.
This results in the following benefits:
Warning in case of real danger of collision
Increased safety for people outside and inside the track
Cost savings through reduction or avoidance of accidents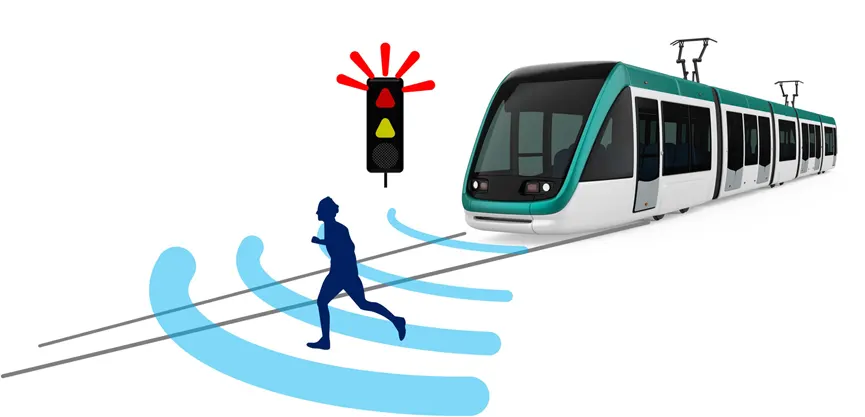 Technology
Integrated Artificial Intelligence
1. If the object maintains its path and enters the danger zone, the total time to collision (TTC) is determined permanently.
2. If the TTC reaches the configured threshold value, a warning is issued to the driver.
3. If an automatic brake intervention is implemented, a braking process is initiated if the driver does not intervene.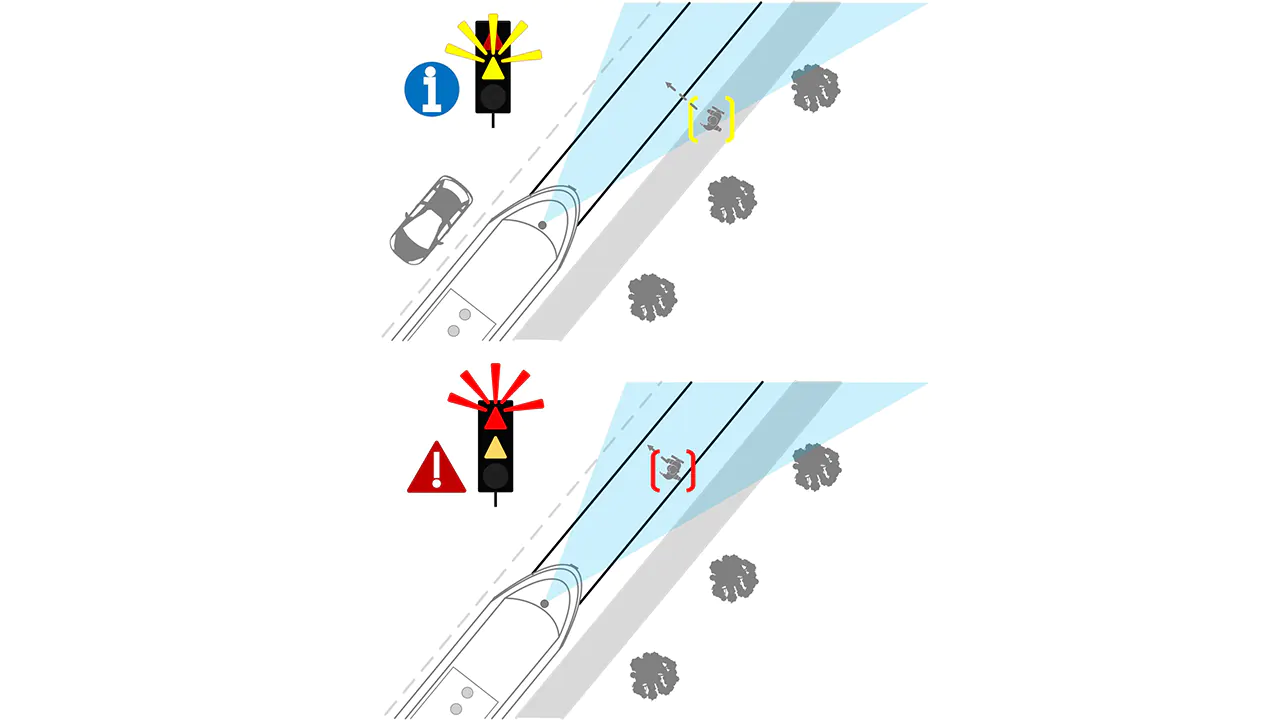 Advanced object recognition
Visibility
If an object approaches the danger zone, this information is passed on in real time via an object list to the central control unit via the data interface (Ethernet) when a threshold value is reached based on the calculated time until an imminent collision.
Subsequently, and depending on the threshold values, this data is used to generate warning signals or, if the driver does not pay attention, for automatic brake intervention.
Optional features:
Switch detection
Signal detection
Highbeam/headlight detection

Smart Components
Dual-Camera

2 high-resolution cameras for monitoring the near and far range in front of the vehicle

RIC-Box

Central control unit with integrated artificial intelligence for object recognition

Signaller

An optical and acoustic signal transmitter shows the status and reports actual dangers.
RailEye® Front Collision Assistant
Digital solution for the railway
Calculation of object information such as object speed, position to the vehicle & probable course of movement
Integrated track detection to determine the danger zone
If danger is detected, warning signal or automatic brake intervention
Use of the "Layer Processing Unit", chip architecture made by EYYES
Maximisation of processing speed & data throughput
Pre-trained network for use in difficult traffic situations
Standards & Certifications
EN 45545 1-5 (fire protection)
EN 50121-3-2 (Electromagnetic compatibility)
EN 61373 (Shock and Vibration)
Questions?
Invest in driving safety!