RailEye® 4.0
Assistance systems for rail transport
RailEye®
The digital driving assistance system from EYYES
Drive Safe! Our AI based blind spot and front collision assistant helps to avoid a collision with other traffic participants. The fully equipped, intelligent driving assistant suite reliably detects multiple objects and persons all over the viewing field as well as their moving direction, draws conclusions based on its perception and predicts possible threats. Performing blind-spot surveillance, switch detection and anti-collision warning and being able to detect people, objects, and vehicles even in 2nd line, RailEye® 4.0 is the leading platform of future safety-critical railway technology.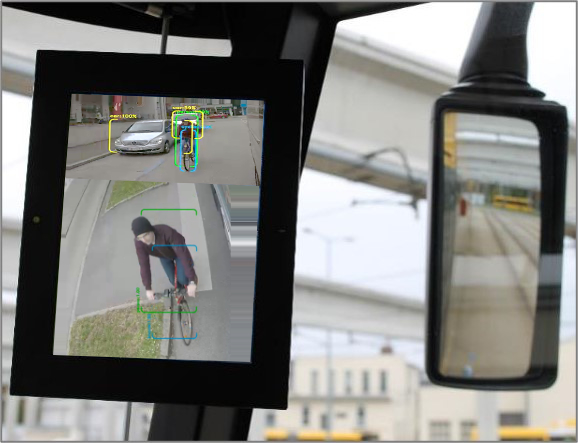 Functions and features of the Raileye® driving assist system
Detects and recognizes people and other road users in danger zones and blind spots, thanks to artificial intelligence.
The AI calculates the expected direction of movement (trajectory) of detected objects
Provides virtually instantaneous digital display of images (less than 200 ms)
Does not require additional hardware to determine the authenticity of the video images
One-Wire single-cable power supply for cameras and monitors reduces installation and cabling effort
Railway-ready cameras ensure excellent digital image quality in all weather conditions
Integrated Power Heating de-ices cameras at -25° in under 150 seconds
High temperature and vibration resistance of all components
Automatic brightness control and high contrast ratio ensure brilliant images every time
CAMERA

The high-resolution digital camera sensor technology with integrated heating detects all the detailed information

SCREEN

The HD monitor gives the driver a complete representation of the environment

RIC-BOX

The central control unit with integrated AI and functional safety

SIGNALER

Visual and audible driver information from the signal transmitter indicates detections and dangers
Detection in the streetcar
Detection in the streetcar
Driving Assistance
Camera-monitor system with AI
Can be used for new vehicles or as a retrofit solution
Fully digital system with high-resolution sensors that can be used flexibly
AI-detection modules based on deep neural networks – RailEye understands complex situations, generates predictions and detects collision hazards
Reliable warning by actively excluding non-relevant objects, thus reducing false alarms
Extension module
Blind spot assistant with AI
Objects are detected and classified. This allows to distinguish between cars, trucks, people, bicycles, … and static objects (trees, bollards,…).
Expected direction of movement of the detected objects is calculated (trajectory). If an object is in the danger zone but moves away from it, only a hint (yellow light signal) is given to the driver.
The driver receives a warning (red light and acoustic signal) only if there is a risk of collision (minimized error rate)
To do this, among other things, the own vehicle´s direction of movement as well as the object´s calculated probable direction of movement are used. If both vectors overlap, a warning is issued.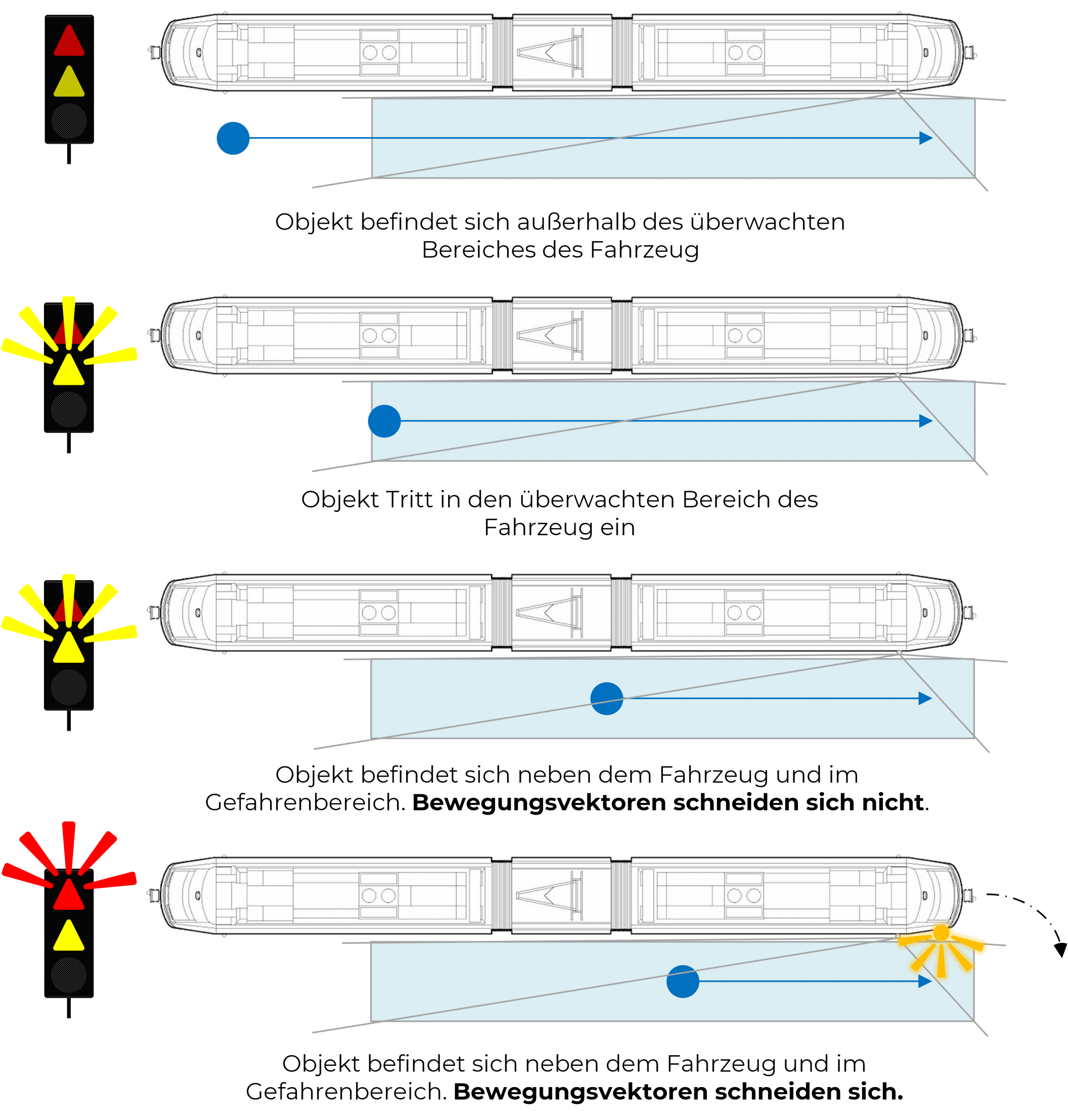 High Performance AI

Reliable object detection and prediction of hazards

Highly efficient, powerful AI detects objects, people, and vehicles and predicts potential collision hazards

Reduction of false alarms

The system warns only in real dangerous situations

Thanks to the AI of EYYES, even non-dangerous objects are detected, subsequently classified as harmless. The driver is only warned in case of real dangers and protected from false alarms

Every detail

High resolution camera sensors

The digital camera sensor technology of RailEye® detects all details and guarantees excellent image quality in all weather conditions

HD-monitor

Temperature and vibration resistant

The HD monitor always delivers a razor-sharp image of the surroundings thanks to automatic contrast and brightness adjustment

Clear signaling

Optimal feedback to the driver

The signaling device warns visually (red light) and acoustically of imminent collisions. It indicates detected harmless objects with yellow light

Delay-free

Real-time protection

The system, including the AI calculations, operates virtually instantaneously with latencies of less than 200ms and provides reliable real-time information to drivers
INQUIRY
Increase safety on the rail!
Electric rear-view mirror

Unrestricted field of vision along the entire length of the vehicle on both sides of the vehicle

Cameras of the RailEye®assist system provide insight into the blind spot

Monitors all doors of the train set for safe exit and boarding of passengers

Monitoring of the area between the individual train sets

Supports the train driver during slow travel in narrowed road passages

Front collision monitoring

Permanently observes the front area of the train set

Supports the train driver during difficult and unclear shunting operations

Warning of collision hazards

The AI of RailEye® detects objects and people even in second row and draws conclusions from their direction of movement. It warns the driver unerringly of impending collisions

Thanks to the powerful RIC-BOX, analysis and evaluation of traffic situations as well as feedback to the driver's cab takes place almost instantaneously in less than 200ms.

EYYES' AI also detects objects that do not pose a threat, avoiding issuing false alarms to drivers.
Increase safety on the rail!
Request